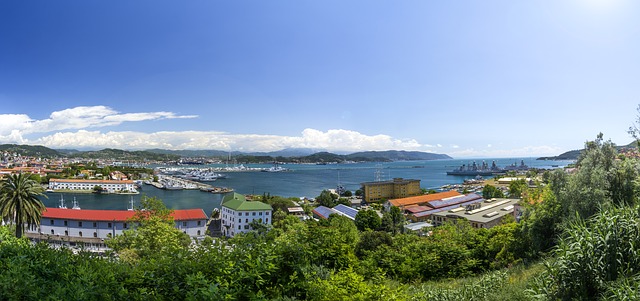 What to visit and where to stay in the province of La Spezia
Porto Venere Nature Park: If you are in La Spezia, this is a must visit. It is a perfect place to enjoy watching the sunset and it also has spectacular views. No wonder that many say it is a dream location.
Amedeo Lia Museum: This museum has a superb collection consisting mostly of paintings from the north of Italy, although it also houses works by artists from Tuscany including Daddi, Sassetta, Sano di Pietro and Venetians such as Vivarini, Gentile Bellini, Titian and Guardi among others.
Technical Naval Museum: This Italian Navy museum is very appealing for the visitor. It houses items as curious as one of the midget submarines that were used in World War II. This exhibition is a little gem in the city. Admission costs just €1.55 per person.
San Giorgio Castle: From the top of the castle you can see the entire city and its surroundings. Everyone is impressed by the spectacular views.
Doria Castle: It really is worth going up to the remains of Doria Castle. A 16th century castle and a classic example of Genoese military architecture, it is connected to the city by a line of walls featuring large square towers. It also has fabulous views over the sea and the city.
Tahon de Revel Bridge: This bridge is next to the town's port and worth strolling to from the centre. It offers fantastic views and has pleasant bars nearby where you can quench your thirst.
Cinque Terre is a gem declared a World Heritage Site by UNESCO in 1997. It is part of the Italian coast along the Ligurian Sea in the province of La Spezia. A beautiful collection of five intimate and picturesque villages, Monterosso, Vernazza, Corniglia, Manarola and Riomaggiore, make up the 'five lands' which are characterised by the vibrant colours of their houses and because they stand on high and dramatic crags. In spite of its charm this coastline is the great undiscovered place in Italy.
Crêuza De Mä apartments: Undoubtedly the best place to stay if you visit La Spezia. The Crêuza De Mä apartments provide magnificent sea views from their rooms with balconies. Located in the small village of Tellaro, they have a strategic position in the town centre. The apartments have been completely refurbished and are modern and equipped with all amenities. They deliver outstanding service and genuine relaxation for the whole family.
Stamp Museum: It houses a vast collection of stamps and seals in all styles, with pieces dating from the 4th millennium BC to the present. The museum was set up in 2000 following a donation by Lilian and Euro Cappellini.
Pisa or Florence: The province of La Spezia is so well located that you can get to Pisa in just an hour by train or to the beautiful city of Florence in two hours. A great option to round off your time in Liguria.